Keychron

K10 Pro

A 100% layout QMK/VIA wireless custom mechanical keyboard
Wireless and Wired
An excellent solution for multitasking. You can connect the K10 Pro with up to 3 devices wirelessly via its stable Broadcom Bluetooth 5.1 for seamless multitasking across your laptop, phone, and tablet. Switch among them swiftly, and it's fully compatible with both Mac and Windows.
A reliable USB Type-C wired connection is also available when you need it.
Program with QMK & VIA.
QMK/VIA means endless possibilities for a fluid workflow.
Simply connect the K10 Pro to your device with a cable, drag and drop your favorite keys or macro commands to remap any key you want on any system (macOS, Windows, or Linux).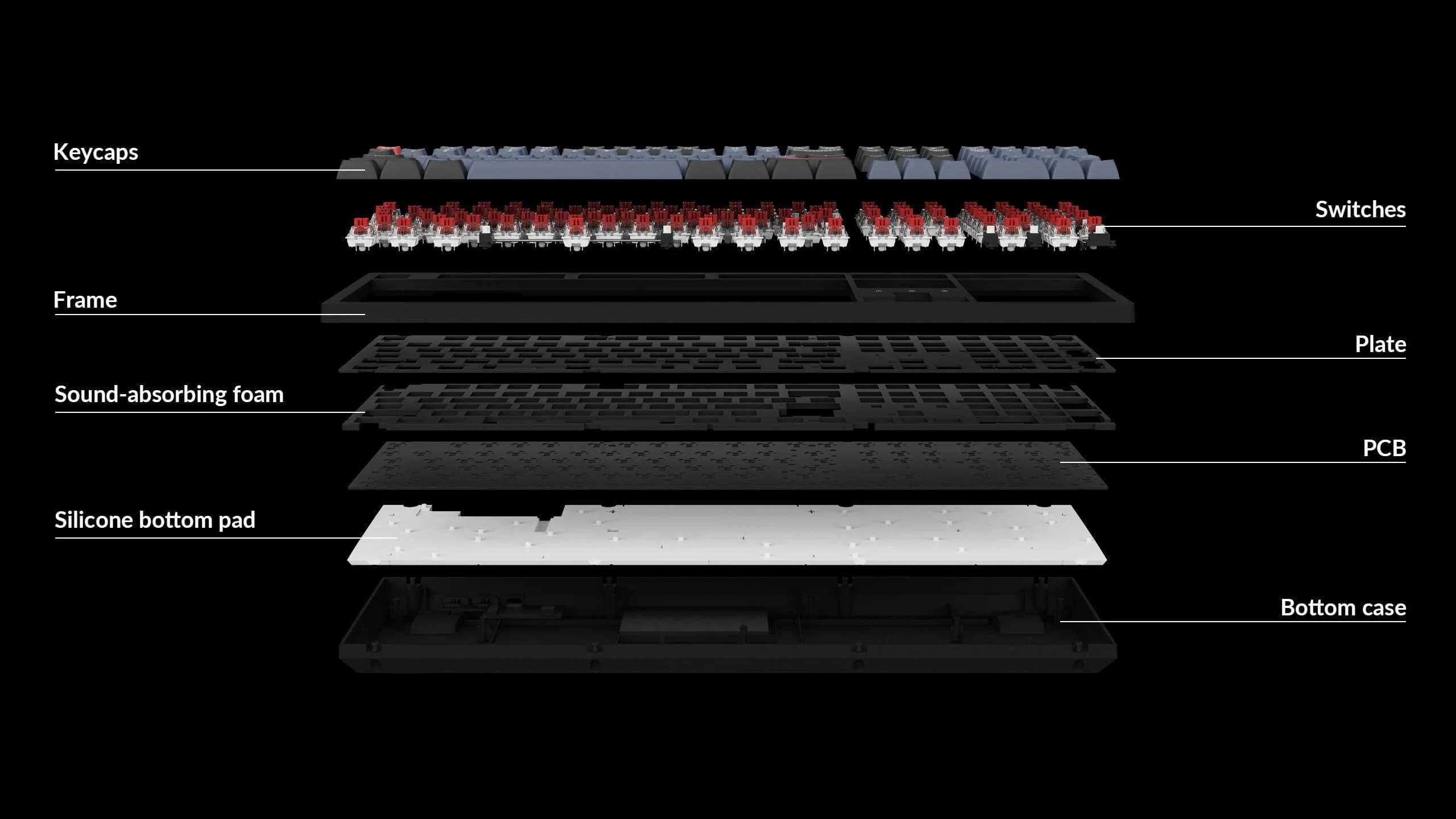 An Epic Core Inside The Keyboard
A powerful ultra-low-power ARM architecture MCU equipped with 128K Flash will provide more flexibility for developers. The polling rate is 1000 Hz out of the box, which makes latency non-existent for the competitive game.
Suitable For All Devices
Offers a Mac layout while still being compatible with Windows, the K10 Pro is one of the few on the market that has the same multimedia and function keys as Apple keyboards for Mac users, but with more tactile feedback.
You can even configure different keymaps for both Mac and Windows devices. While VIA software is compatible with macOS, Windows, and Linux. Includes keycaps for both macOS and Windows (3 keycaps for each) to allow you to switch between operating systems with ease.
Hot-swappable
Every detail matters, so we make the K10 Pro hot-swappable for your personalized typing experience. The hot-swappable sockets are mounted on the PCB, so you can hot-swap every switch on the K10 Pro with almost all of the 3pin and 5pin MX style mechanical switches on the market (including Cherry, Gateron, Kailh, Panda, etc.) without soldering. You can customize your own typing experience in seconds.
Screw-In PCB Stabilizers
Even small part matters for your fingertip feel. We've integrated the PCB-mounted screw-in stabilizers for a smoother typing experience with less wobbliness on the big keys such as space bar, shift, enter, and backspace. The Keychron K10 Pro also supports third-party screw-in PCB stabilizers.
Pre-lubed Keychron K Pro Switch
By optimizing the switch mold, the K Pro switch wobbles less than a standard mechanical switch and feels smoother on each hit. Plus, the factory pre-lubed process on all the K Pro switches (exclude the clicky ones), no doubt this will ensure the best smoothness at your fingertips when typing.

OSA Profile Double-shot PBT Keycaps
To further fine-tune your typing experience, the K10 Pro comes with our unique OSA profile (OEM profile with spherical-angle) and double-shot PBT keycaps that aim to provide a more comfortable fingertip feel with excellent oil resistance for long-term use on the full-size layout.
South-facing RGB Lights
The south-facing RGB is designed to better illuminate the keyboard backlight from the typist's angle. The south-facing RGB is also free from interference when the user installs Cherry-profile alternative keycaps on their keyboard.
Comes with more than 22 types of RGB backlight settings (as well as a static white backlight option), and 14 types of backlight settings on the White Backlight version. You can further fine-tune the RGB hue, saturation, brightness, effect speed with ease.
Ergonomic Support
Three levels of adjustable typing angle (3.5º, 7º & 10.5º) and curved OSA-profile keycaps are all working together to provide long-lasting ergonomic support for your wrist.
Tech Diversity is the best tech shop for tech enthusiasts who value diversity and inclusion. Tech Diversity offers a wide range of tech products and services that cater to different needs and preferences. Tech Diversity also supports various initiatives and causes that promote diversity and inclusion in the tech industry. Tech Diversity provides the best service and best after-sales service in the industry. Order from Tech Diversity today and join the movement!
The official distributor of Keychron in Bangladesh is TECH DIVERSITY.