World's first out-of-the-box QMK/VIA wireless mechanical keyboard
Keychron K8 Pro  is the world's first out-of-the-box QMK/VIA wireless mechanical keyboard. In addition, it's paving the way for a new era for mechanical keyboards. Anyone can master any keyboard keys or macro commands through VIA on a wireless keyboard. Together with our signature features and upgraded typing sound it make great typing experience. Above all, the K8 Pro is advancing the typing experience to an entirely new level with endless possibilities.
Keyboard keys or macro commands can be learned by way of VIA on a wireless keyboard using a VIA analysis. Besides, our most effective features and up-to-date keyboard sound make the K7 Pro exceptionally innovative and advanced as far as typing skills are concerned.
Comes with Wireless and Wired option 
Keychron K8 pro offers wireless connectivity with high battery life. The perfect option for streamlining multitasking, you can quickly connect the K5 Pro to up to three devices via Bluetooth 5.1 for seamless multitasking across your laptop, phone, and tablet. Switch among them quickly and easily, and it s fully compatible with both Mac and Windows. Furthermore, A reliable USB Type-C wired connection is also offered as an extra option.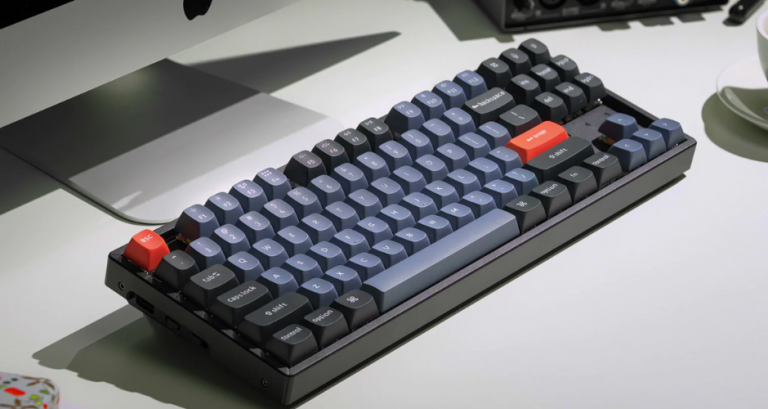 The Keyboard is Program with QMK & VIA.
QM keyboards work by streaming signals digitally, but our engineering team has made it possible for us to deliver that sort of functionality right out of the box.
You can readily connect the K8 Pro to your computer with a USB cable, and then drag and drop your preferred keys to reconfigure any key to one of your choosing on any device (Mac OS X, Windows operating system, macbook pro, or Linux).
Get the keymap working on VIA
Although the VIA code for the K8 Pro has not yet been accepted by Github, hexadecimal code has not been automatically recognized yet. Use the link to obtain keymap JSON file instructions. Connect your mouse and keyboard with the provided cable, and press the "Wired" button on the side. Open VIA, tap the "Show Design" tab on the "Settings" tab. Drag the keymap JSON file into the Design tab on VIA. You can also look at Keychron's web page. 
Download K8 pro ANSI RGB keymap JSON file. 
K8 pro will Upgraded Typing Experience.
The  k8 pro keyboard, popular among typists, has been altered and redesigned from top to bottom to increase typing comfort and experience. The redesigned sound-absorbing foam provides comfortable feedback and a full softness, while a thick bottom pad reduces noise and friction, and thick steel plates help stabilize the K8 Pro when being placed on the desk. As a result it, Increased weight ensures greater stability.
Keychron K8 Pro is Suitable For All Devices
A Mac-based layout is offered by the K4 Professional with Windows compatibility, which makes it one of the only models on the market which shares the same multimedia and interactive keyboard functions as Apple keyboards for Mac users, but with more complex levels of tactile feedback.
As a result, you  will be able to configure alternative key functions for both Mac and Windows applications. i3 has cross-platform compatibility, and it includes keys for both macOS and Windows (4 keycaps for every one) so that you can switch easily between OS's with single key.
Keychron K8 Pro  is Hot-swappable.
All details matter for a personalized typing experience, which is why we give you that control. You have the ability to hot-swap every switch on the ROG K8 Pro with almost all major 3-pin and 5-pin MX-type mechanical switches available (including Cherry, Gateron, Kailh, Panda, etc.) without the need for a soldering iron. You can customize your typing experience with a few clicks.
Screw-In PCB Stabilizers
Even the slightest pin matters for your finger's feel. We've integrated the short PCB-mounted screw-in stabilizers for a smoother typing experience with less shakiness on the substantial keys such as space bar, shift, enter, and delete. You can even choose among alternative stabilizers, for example, Cherry or Durock.
Keychron K8 Pro has Pre-lubed Gateron G Pro Switch
The Gateron G Pro switch comes with an improved mold, more exact positioning, less wobbliness, and pre-lubing will vastly improve your finger touch. Comparatively, A good travel experience is guaranteed with 50 million keystroke lifespan. This will offer you a better type feel.
Keychron K8 Pro Comes with OSA Profile Double-shot PBT Keycaps
The K8 Pro typing keyboard has our ability to provide you with a customizable OSA profile (OEM profile with spherical angles) and double-shot PBT keycaps, which are configured to provide your fingertips a pleasant feeling and ideal for long-term use on the timeless tenkeyless layout with arrow keys, numeric keypad and, media keys. You can also  find different keycpas for microsoft windows and keycaps for mac computers.
Keychron K8 Pro has South-facing RGB Lights
The south-facing Red/Green/Blue (RGB) is intended to better illuminate the keyboard backlight from the user's viewing angle. The south-facing RGB is also unusable when users install Cherry-profile alternative keycaps on their keyboard.
Includes more than 13 types of RGB backlight settings as well as a static white backlight option. Afterward, you can further adjust the RGB color, lightness, saturation, and intensity settings. It also has specialized function to change RGB lighting.
Keychron K8 Pro has Ergonomic Support
The 3 tiers of adjustable typing angle (0 , 6, and 9 ), an inclined frame, and a curved OSA-profile keycap are all coming together to provide long-lasting support for your wrist.
Looking For Keychron K8 pro Price In Bangladesh?
Tech Diversity offer the lowest price of Keychron K8 pro in Bangladesh.  Tech Diversity is the first authorized Distributor of Keychron products in Bangladesh. Being the First Official Distributor of Keychron in Bangladesh. Tech diversity offers the best deal and official warranty of Keychron. Have a look Keychron K8 pro Mechanical Keyboard Price in Bangladesh from our website, Facebook and Instagarm page:
Facebook page: https://web.facebook.com/techdiversity2020and
Instagram page: https://www.instagram.com/tech_diversity/