Keychron M6 packs all the best features in its super ergonomic, lightweight body. With over ten customizable buttons and wireless 2.4 GHz & Bluetooth 5.1 connection enabled, it offers the best performance to maximize productivity ideal for any scenario!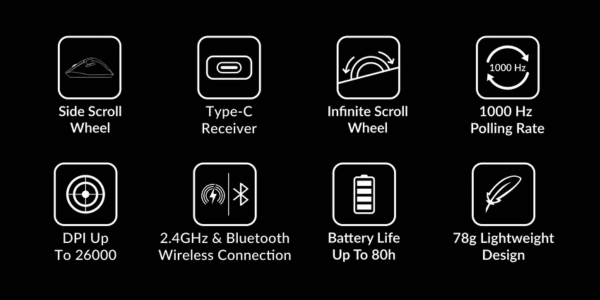 Dual Scrolling Mode
Equipped with two scrolling modes, the top wheel offers convenient switching between the standard middle and the infinite scroll wheel via the top button, providing you with versatile scrolling options right at your control. This flexibility enhances your productivity and creativity in various scenarios.
Standard tactile wheel
In the standard middle wheel mode, scroll with high precision at each notch for tasks like data analysis, reading posts, zooming in / out your gaming map, and so on.
Infinite Wheel – Frictionless
While switching to the infinite scroll wheel, it feels quiet, smooth, and super-fast, as if friction was non-existent, most applicable when you browse lengthy pages or notification feeds or any tedious information.